Cinema Ray: The Devils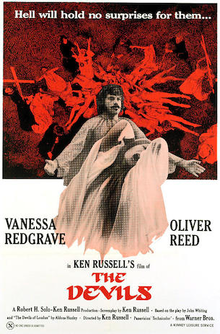 Cinema Ray brings another hard-to-find screening for your viewing pleasure!  This month is Ken Russell's 1971 historical drama horror film, The Devils.
Very loosely based on the the rise and fall of a 17th century French priest who was executed for witchcraft, this film was heavily edited (where it wasn't outright banned) for its disturbingly violent, sexual & religious content and is hard to find in print today.
Get here early for a lucky ticket drawing for fabulous swag, followed by a mix of film shorts and oddities!
Doors at 7:15
$5.00 admission
$2.50 Tecates all day
Half off all drafts 5-7 & 10-11pm
$1 all beef or veggie bean tacos until we run out!