Cranksgiving 9: Annual Charity Bike Ride & Donation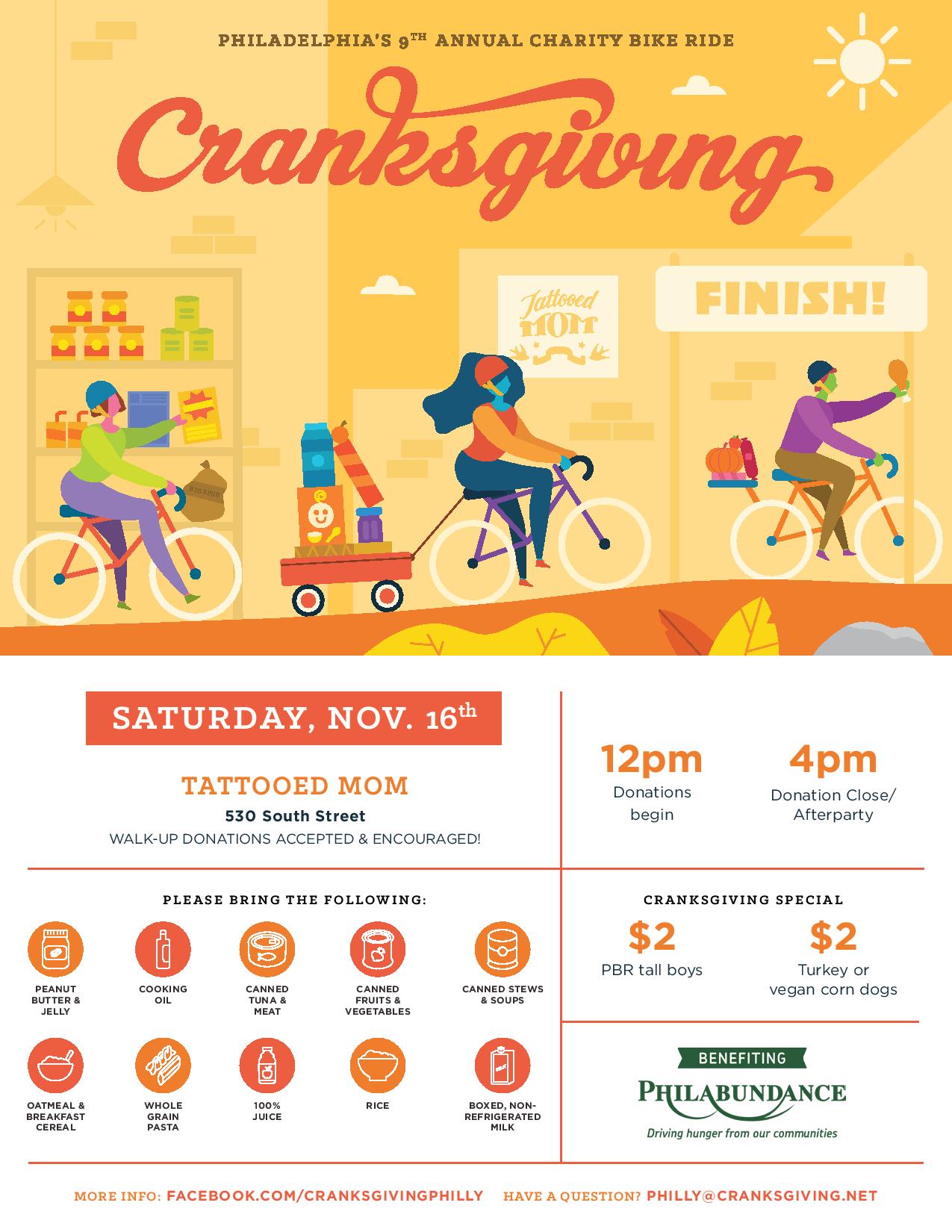 The 9th Annual Cranksgiving Philadelphia is back! Cranksgiving is a food drive scavenger hunt where cyclists & other participants race around the city to purchase food from various "checkpoints." Folks can race their way through to compete for prizes, take a leisurely bike ride towards the finish line, or just join us at Tattooed Mom for the food drop-off & afterparty! All collected food will be sorted and donated to Philabundance!
If you are planning to come & donate without participating in the ride, check out this list of Philabundance's Top Most Needed Items! WALK UP DONATIONS ARE ENCOURAGED!
***
For cyclists:
Registration at Penn Treaty Park: 11am
Ride Start: 12pm
Finish at Tattooed Mom: 3pm
Awards & After Party: 4-5pmish
For folks who only wish to donate, drink, & party:
Collection at TMOMs: 1-4pm
Awards & After Party: 4-5pmish
***
What to Bring?
A bike, a helmet, a lock, a bag (or basket or rack or cargo bike or trailer or tandem-touring-tall-bike) to carry the food if you are participating in the ride, money to purchase food items, and a charitable attitude!
Sponsors Include:
Tattooed Mom
Pixel Parlor
Lehigh Valley Apparel Creations
& MORE TBA!
Enjoy Cranksgiving with some TMOMs food & drink specials:
$2 turkey or vegan corn dogs & $2 PBR tall boys from noon 'til 5pm!
Join the Facebook Event and invite all your pals!