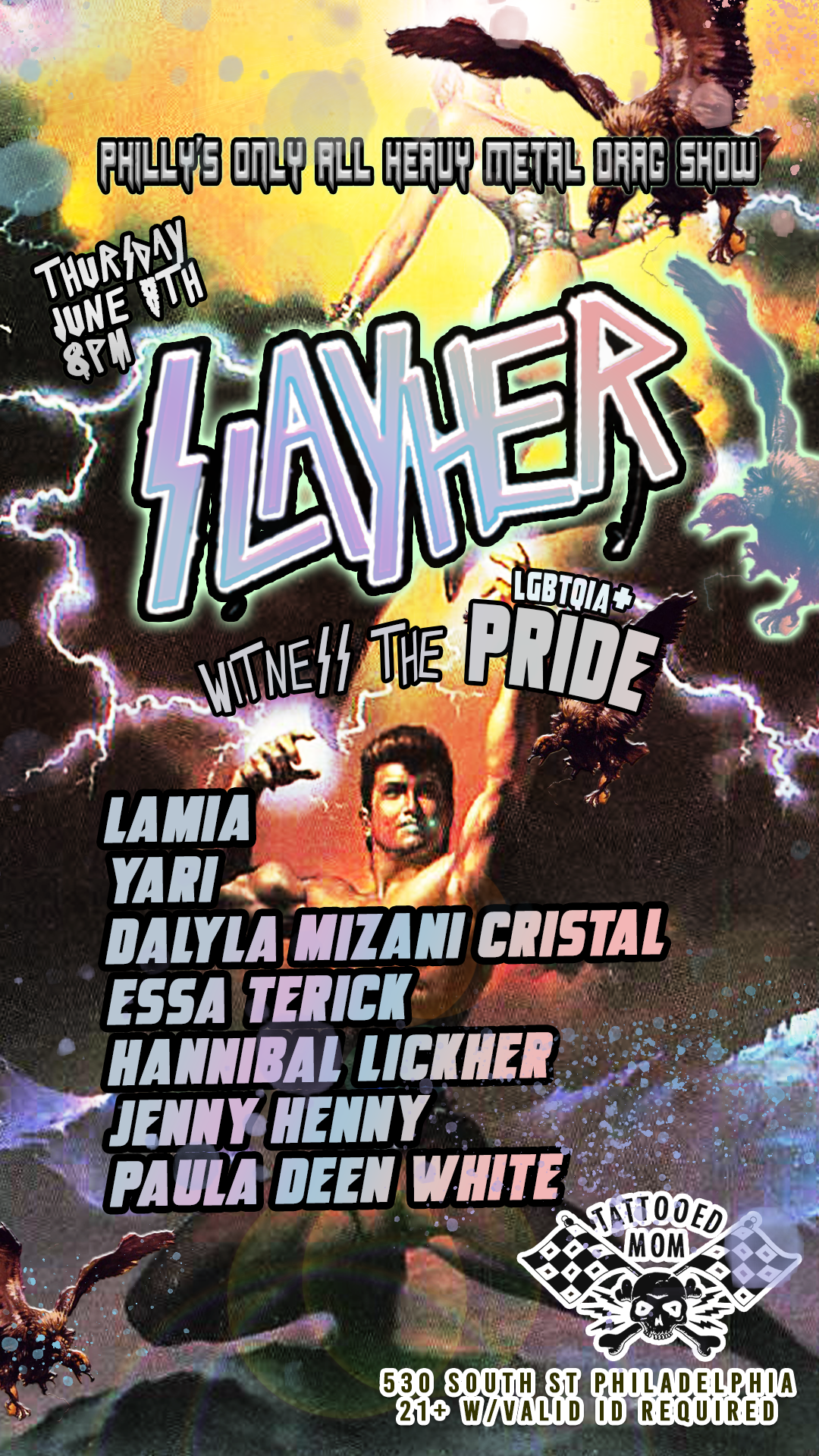 The 7 Deadly Sins of South Street convene under the dark veil of Philly's Only All Heavy Metal Drag Show to bless the world with their accursed temptations. Lust, Greed, Envy, Wrath, Gluttony and Sloth take heed to the sin of the month: Pride! Slayher is celebrating LGBTQIA+ PRIDE month with a stalwart class of devilish divas and deities.
THURSDAY, JUNE 8TH
DOORS @ 8PM + SHOW @ 9PM
NO COVER // FREE FUN
VIP SEATING $15 (ONLY AVAILABLE ONLINE): EVENTBRITE
Witness the Pride of
Lamia, The Cursed Queen
Yari
Dalyla Mizani Cristal
Essa Terick
Hannibal Lickher
Jenny Henny
Paula Deen White
Enjoy delectable vegan and nonvegan entrees as well as a sinful menu of cocktails, draft beers and signature specialties. Test your metal mettle with the iconic gauntlet of wails, The Slayher Scream Showdown, and win fabulous prizes courtesy of the legendary Tattooed Moms. Shoot some pool and see wall-to-wall-to-wall local artists displaying their works in the premium punk rock atmosphere of one of South St's finest bars and restaurants.
Seats are First Come First Served unless reserved with a VIP presale ticket. For more info on VIP packages and reserved seating please see the VIP add-on at checkout!
***Transphobia, Racism, Ableism, Sexism or Hate speech (TRASH) will not be tolerated at this event by any means, any violations will result in restricted access to Slayher, Tattooed Mom and Lamia, The Cursed Queen events.***
***
What's Up at TMoms:
• All hail Pierogi Thursday! Munch and crunch on 75¢ pierogi (vegan, obvi) plus $3 cans of Tecate every Thursday!! And don't forget ur toppings… Thursdays, 4-11pm.
• Enjoy our happy hour! All drafts are just $4 every day from 4-6pm!
• Tattooed Mom will also be serving tasty eats and ice cold drinks all evening.
• Upstairs dining, bar access, and event entry is 21+ w/ valid ID.