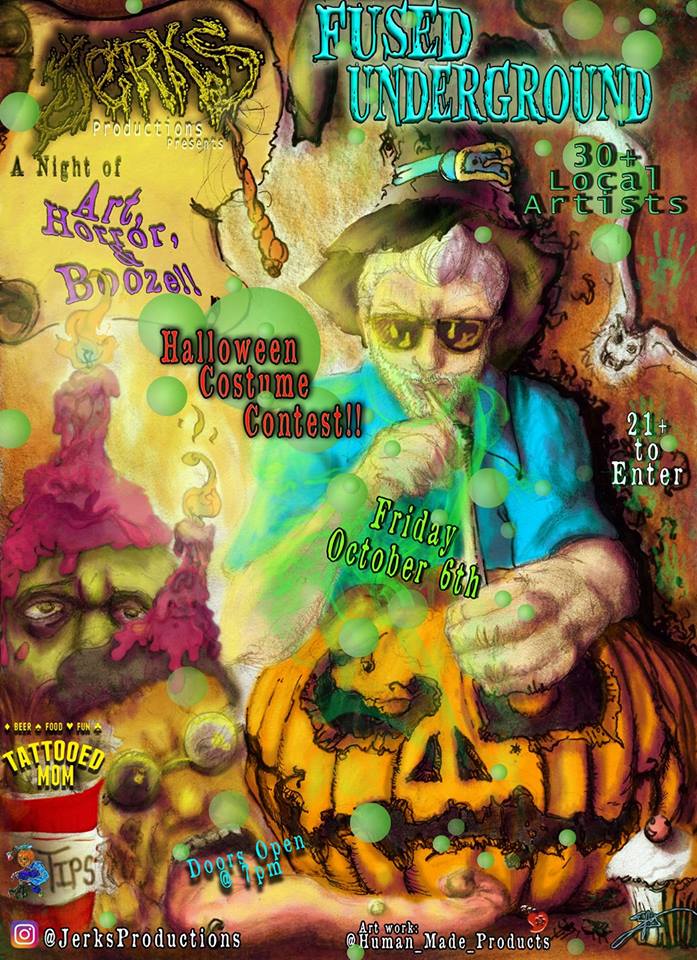 JERKS Productions brings you FUSED UNDERGROUND Halloween showcase! Join them for their FOURTH YEAR with a night of ART, HORROR & BOOZE as they celebrate First Friday and showcase over 30 of Philadelphia (and surrounding area)'s best local artists!
*A reading by local writer Christina Rosso.
*JERKS will screen their newest short film, "You're It" & Episode 4 of their web series "Ominous".
*There's a rumor that the Philadelphia Ghostbusters may just stop by….
*Costume contest with prizes and give aways!!
Featuring art by:
Human Made Products
Qori Moorehaul
Jamie Elizabeth
Imaginarium Creative Studios
Jonny Tansey
The Smoking Girl
Kurt Brecheis
Jess Hain
Sarah Ross
Sophie Strachan
Megan Potoma
Nate Hurst
Shayna Feinstein
Devilsbrush
Krissy whiski
Lauren Ramer
Jaime Cromer
Alex Ogle
Pierre-Hugues Gélinas
Jessica Gennarelli
Melanie Green
Kate O'Donnell
Chris Wagner
A Creative Design Company
Erika Tweedie
Anthony Pepe
Rocio Rodriguez
Jude P Martin