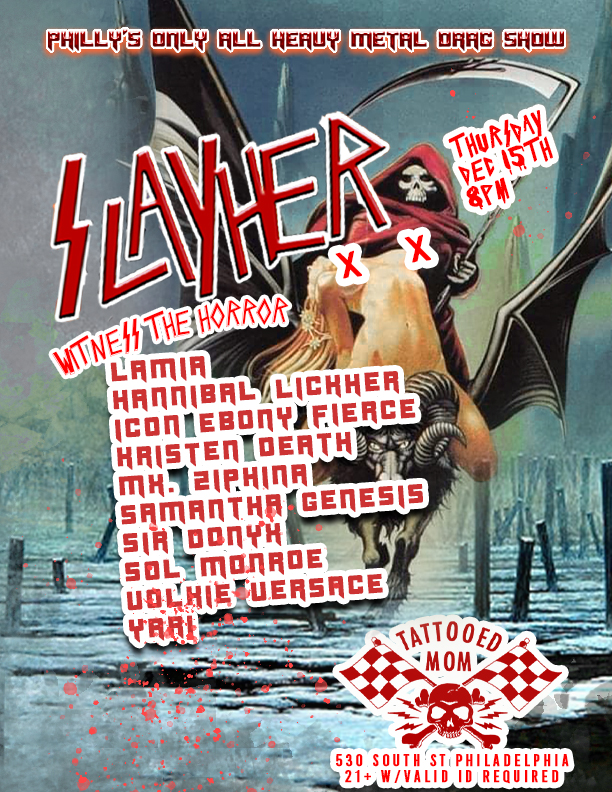 Slay Bells Ring, Are you Listening? This holiday season the iciest queens and the hottest nobility of Philly Drag's Only All Heavy Metal Drag Show descend from the frozen north to depart the abyssal word of the thawing glacial primordials. Celebrating the Xrd birthday of Philadelphia's Heavy Metal Queen of the Damned, The Accursed Lamia and the Seraphic Souls of SLAYHER presents to you Exmas 3: Lamia's Revenge. This heartbreak holiday for Sagittarians and victims of Sagittariuses enters its third phase on the most savage stage in the tristate area. Forget the pain of the holidays with Fierce Lip Sync, Dark and Sexy Dancers, Scorching Stunts and Sickening Blood and Gore.
THURSDAY, DECEMBER 15TH
DOORS @ 8PM + SHOW @ 9PM
NO COVER // FREE FUN // VIP SEATING $15 (ONLY AVAILABLE ONLINE)
RSVP: FB EVENT | VIP: EVENTBRITE
Featuring SLAYHER's Very Own:
Lamia
Yari
Icon Ebony Fierce
Sir Donyx
Hannibal Lickher
and Samantha Genesis
Along with Special Guests:
Volkie Versace
Sol Monroe
Mx. Ziphina
and Kristen Death
Grab a draft off the tap and get your gut going for the infamous symphonie of shrieks, a screaming contest where you can win the coveted gauntlet of Tattooed Mom's Glory! The most barbaric showdown in all of humanity crowns the victor in riches and libations unparalleled!
2f, Only at Tattooed Mom, 530 South St, Philadelphia, PA. Suggested Donation of $10-15 Seating starts at 8pm, Shows at 9pm. 21+ with valid ID required. ***Transphobia, Racism, Ableism, Sexism or Hate speech (TRASH) will not be tolerated at this event by any means, any violations will result in restricted access to Slayher, Tattooed Mom and Lamia, The Cursed Queen events.***
Tattooed Mom will be serving tasty eats and ice cold drinks all evening.
Upstairs dining, bar access, and event entry is 21+ w/ valid ID.