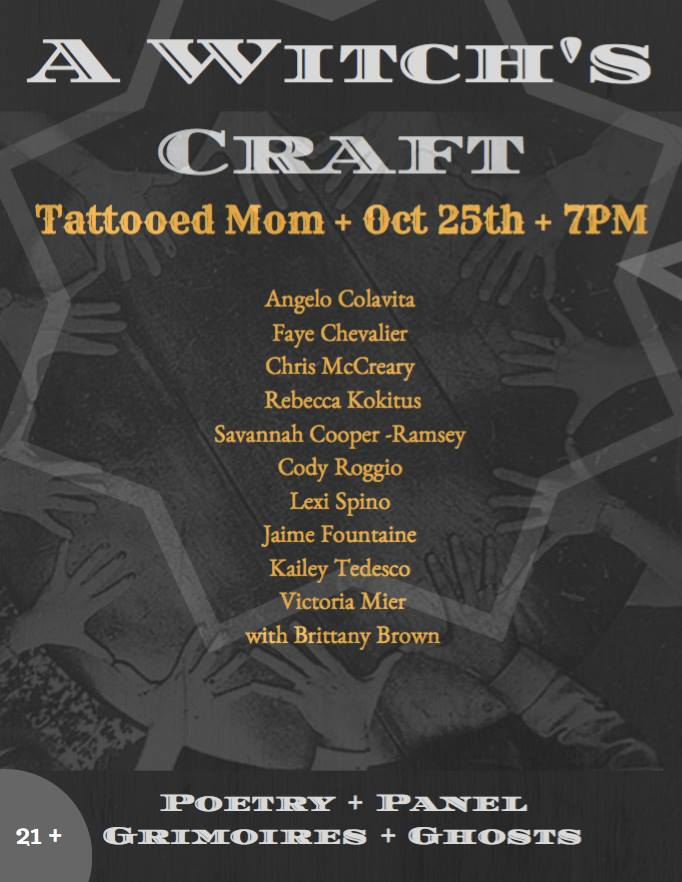 Come join a coven of poets & thinkers as they read their most delicious verse & discuss all their muses from beyond the veil. Celebrating the fast-approaching Samhain with another installment of A Witch's Craft, this time featuring even more incredible writers, such as:
Angelo Colavita
Faye Marie
Rebecca Kokitus
Chris McCreary
Cody Roggio
Savannah Cooper-Ramsey
Victoria Mier
Lexi Spino
Jaime Fountaine
Kailey Tedesco
Brittany Brown
This is a free 21 + event, but event hosts will be selling a new edition of their pocket grimoires (designed by Brittany Brown) for $10. Proceeds from those sales will go to RAICES. More details to follow, so be sure to follow this event!
All are encouraged to dress up, bring ghost stories, and prepare to experience something truly phantasmagorical.
Enjoy this event with our Pierogi Thursday specials:
50¢ vegan potato & onion pierogi from noon-10pm
& half off all drafts 5-7pm and 10-11pm
Join the Facebook Event and invite all your witchy pals!