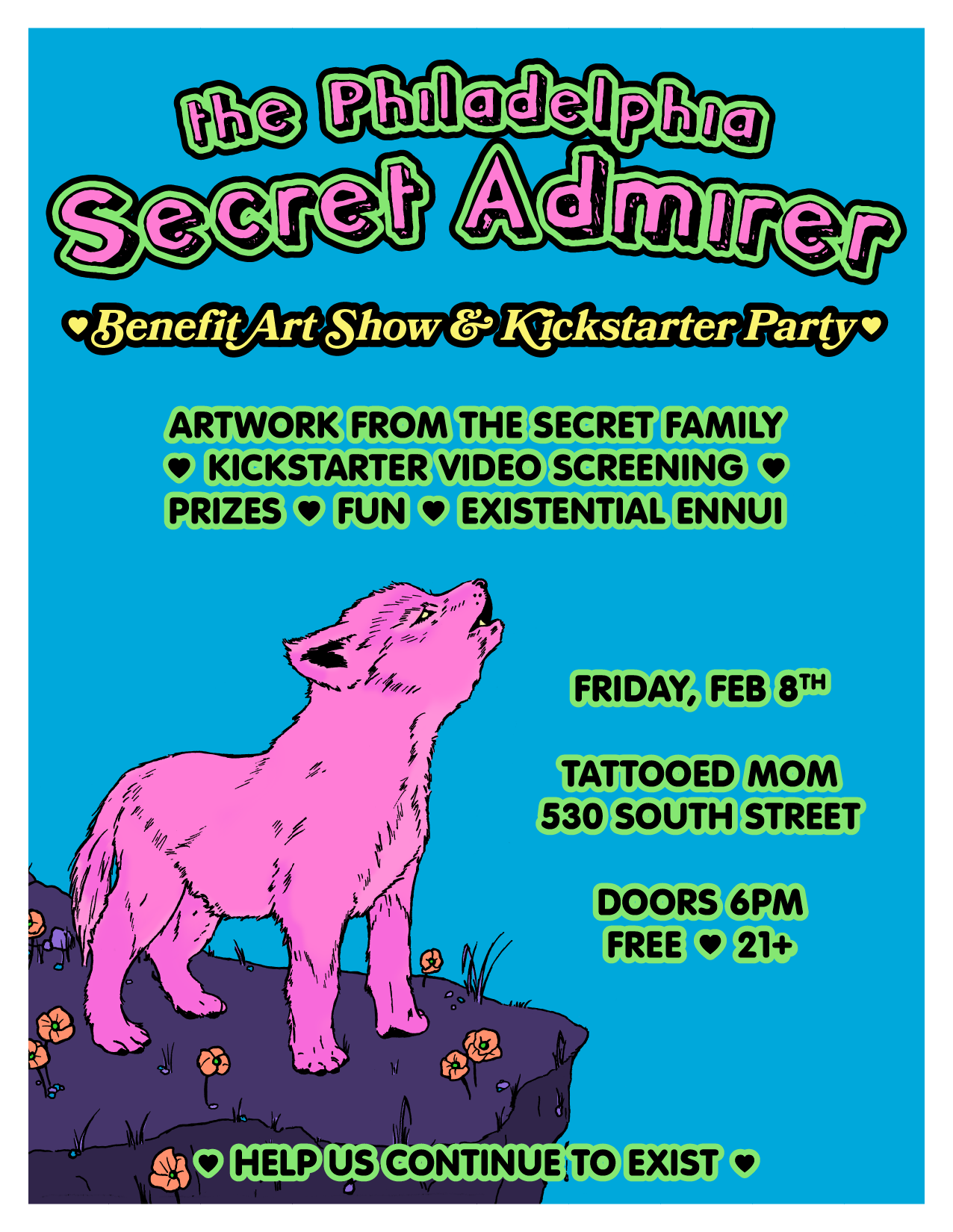 Join us Friday, February 8th for a group art show to benefit the Philadelphia Secret Admirer! Featuring 15+ contributors and up-close encounters with our editorial staff! Witness the WORLD PREMIER of their first foray into film, Phase One of the Third Phase of the Philadelphia Secret Admirer, with the help of Jerks Productions!
This show is also a celebration of their impending Kickstarter campaign launch, which will help fund another year of the Philadelphia Secret Admirer! Don't miss out on the first screening of their Kickstarter video, and make sure you show up to support local Philadelphia art & artists!
FREE
21+ w/ valid ID
Come for the top-shelf earthy atmosphere & stay for a chance to be part of history! Show your support by purchasing merchandise, back issues, artwork from the show, or by simply saying hello and exchanging moist awkward handshakes with the avatars of mental illness & champions-of-the-bored-and-lonely that you've all come to love. Donations are welcome, but absolutely not required.
FEATURING:
Nate Hurst
Kristin Scholz
Pat Aulisio
Box Brown
Rodger Binyone
Kevin Spaghetti
Cassidy McGinley
Tia Roxae
Aubrie Costello
Bianca Bee Fanty
Justin Duerr
Leta Gray
Rob Woods
Rachel Pfeffer
David Otter
Enjoy this event with happy hour drafts from 5-7pm & 10-11pm!
Follow the Philadelphia Secret Admirer on Instagram to stay up to date with new issues & their campaign!