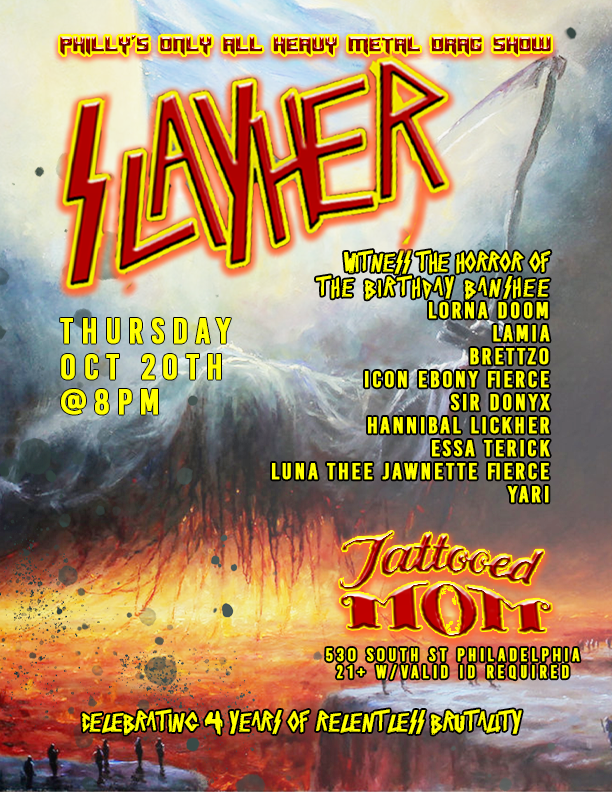 The Legacy of SLAYHER has reached 4 years of heavy metal ferocity and the demonic divas of South St. return for more fierce drag debauchery!
Drag Her! SLAY HER! In the 4 years since SLAYHER was founded by hosts Lamia and Lorna Doom, Philadelphians have been cursed with countless memories of limitless brutality, unabridged stupidity and downright irresponsible lizard-brain activity due to the antics of this amorphous troupe of high-heeled succubi. Philly's darkest legacy continues on this auspicious night to celebrate the birth of SLAYHER and one of its founding f*****s, Lorna Doom! The covenant of chaos welcomes the spirits of damned this Samhain with delicious menu options and cocktails by Tattooed Mom. This ferocious festival of fury satisfies your basest and most carnal desires! Fierce Lip Sync, Dark and Sexy Dancers, Scorching Stunts and Sickening Blood and Gore.
THURSDAY, OCTOBER 20TH
DOORS @ 8pm + SHOW @ 9-11pm
NO COVER // FREE FUN // VIP SEATING $15 (ONLY AVAILABLE ONLINE)
RSVP: FB EVENT | VIP: EVENTBRITE
Hosted by LAMIA and LORNA DOOM
Witness the Horrors of
BRETTZO
ESSA TERICK
HANNIBAL LICKHER
ICON EBONY FIERCE
LUNA THEE JAWNETTE FIERCE
SIR DONYX
YARI
Grab a draft off the tap and get your gut going for the infamous symphonie of shrieks, a screaming contest where you can win the coveted gauntlet of Tattooed Mom's Glory! The most barbaric showdown in all of humanity crowns the victor in riches and libations unparalleled!
2f, Only at Tattooed Mom, 530 South St, Philadelphia, PA.
Suggested Donation of $5-$15
Seating Starts at 8pm Shows at 9pm
21+ w/ valid ID required
**Transphobia, Racism, Ableism, Sexism, or Hate speech (TRASH) will not be tolerated at this event by any means, any violations will result in restricted access to Slayher, Tattooed Mom and Lamia, The Cursed Queen events.**
Tattooed Mom will be serving tasty eats and ice cold drinks all evening.
Upstairs dining, bar access, and event entry is 21+ w/ valid ID.