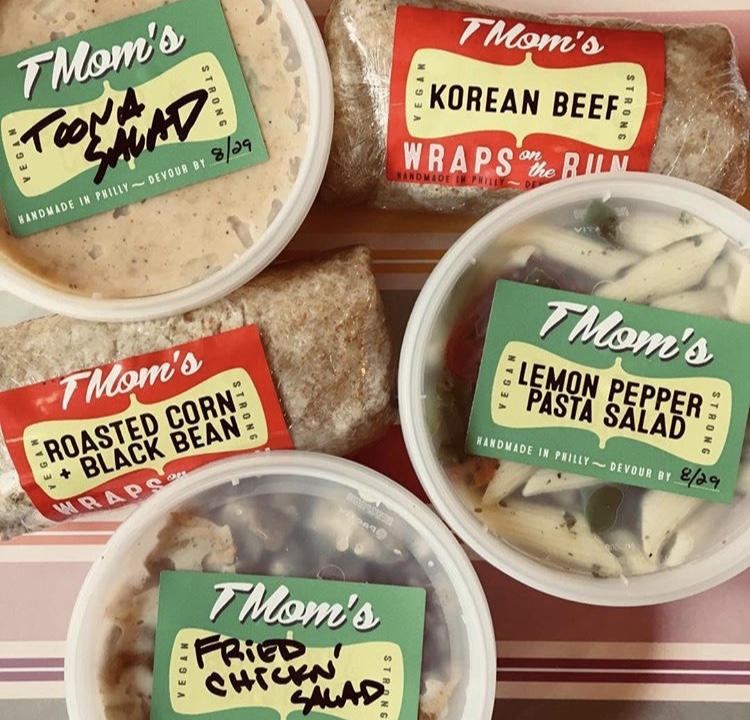 We're beyond stoked to be able to share a bit of TMoms tasty goodness all over town with our Wraps on the Run and Chubbs Tubbs! Available at local independent businesses V Marks The Shop, Kensington Food Coop and Batter & Crumbs, our TMoms To Go line is a fun new way to take a little of that Tattooed Mom vegan deliciousness home with you while helping to support local businesses.
Our TMoms Vegan Wraps on the Run line include Fried Chickn Salad, Korean Beef, Black Bean & Corn, BBQ Chickn and more. And our new Chubbs Tubbs features many of the popular Wraps on the Run flavors to use on the go or at home in your own sandwiches, salads and stir fries plus vegan Toona Salad, Lemon Pepper Pasta Salad, Tandoori Hummus and more! Made fresh in house, all vegan and featuring new recipes exclusive to TMoms To Go, these wraps and salads put a fresh new convenient spin on some Tattooed Mom favorites. We can't wait for you to try them & hope you'll love Wraps On The Run & Chubbs Tubbs as much as we do!
Find Wraps On The Run and Chubbs Tubbs exclusively at:
V Marks The Shop • Kensington Food Coop • Batter & Crumbs • and MORE locations SOON!